SHIMMY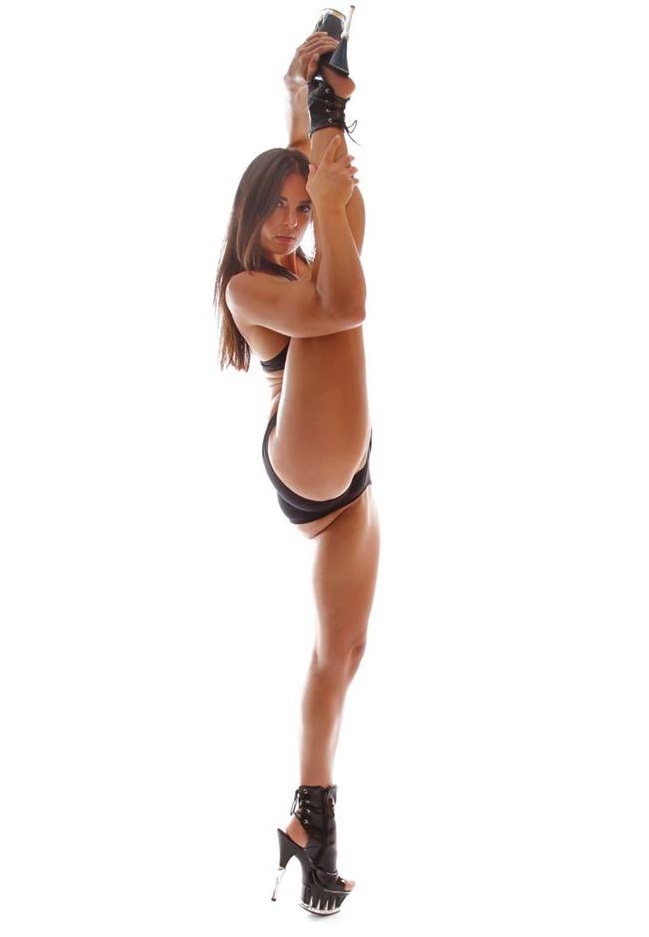 Australia's Michelle Shimmy is one of our favourite pole icons, with a beautiful sexy yet girl-next-door style – and is the pole dancer with the butt we all covet! Shimmy is a Sydney-based pole dancer and pole instructor and co-owner of the Pole Dance Academy in Bondi with her sister Maddie. She has won titles including Australian Pole Championship, Group Division and Australia Pole Fitness Championships 2012, Doubles Division 
We catch up with Shimmy and talk doubles moves, sweaty hands, velcro butts and massages from shirtless male models…
REVVED UP POLE: So tell us how you first became interested in pole dancing? (I once read you said pole was "like gymnastics for grown ups" which we think sums it up perfectly!) What can you remember about your first time on a pole?
SHIMMY: My sister Maddie's best friend convinced Maddie and I to try a class. I actually didn't want to go – I thought that pole dance sounded lame. But Maddie convinced me, so I went along. I remember being behind Maddie in class and watching her do her body rolls and thinking "my goodness this is an awkward thing to watch your sister do!" How things have changed since then! But I was hooked immediately. I loved it.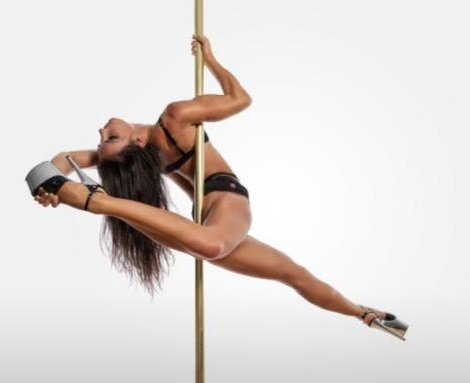 RUP: You won the Australian Pole Fitness Championships doubles division and Australian Pole Championship doubles division with your partner Matty. You obviously have to train very closely with your partner to get such an amazing performance together. Did you find that you learned anything different working with a man as opposed working with women?
MS: Where do I begin? It's very different pole dancing with a male partner. Their skin grips differently, and different positions are more painful for them. Matty and I like to mix it up so that sometimes I base him, and sometimes he bases me. At first I found it difficult to base him as he's a little heavier than me, but I got used to it.
As for style, we had to find a common unifying style for our doubles, as my style is usually either quite sexy or alternatively feminine and pretty, I suppose. Matty can also dance that way too – maybe better than me! But to be a credible doubles act we needed to come up with something that would translate well on stage. We seem to do mostly emotional performances, and we put a lot of heart and soul into each one, which I think shows in the performance. People have told us that they've cried watching our shows. We love that haha…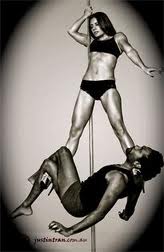 RUP: You have quite a roll call of legendary pole dancers Down Under, from Jamilla Deville to Felix Cane, Suzie Q, Deb Roach, Cleo the Hurricane and many more, as well as amazing performers like Chilli Rox, Fontaine and Amber Ray. What is it about you Australians that makes you so amazing??
I think that in Australia we take our pole very seriously, and we train very hard. The fact that there are so many amazing pole dancers here means that if you want to do well, you really have to work! I think we all push each other to train harder and be more creative. I feel honoured to be a part of such an extraordinary group of women.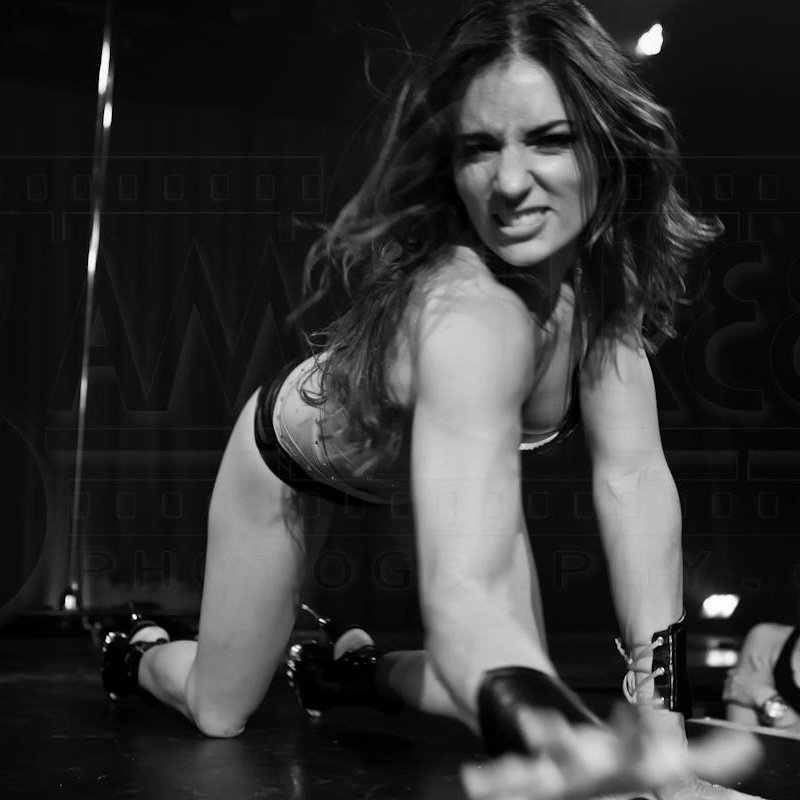 RUP: What are your three favourite pole moves – if it's possible to get it down to three?!
MS: It changes all the time. At the moment I love some of the bendy back moves, because my back is finally starting to get more flexible. But a top three… hmmm… I love my one arm spin, and you can't beat an aerial Phoenix, and I guess the last one would have to be my move the seahorse or Velcro Butt!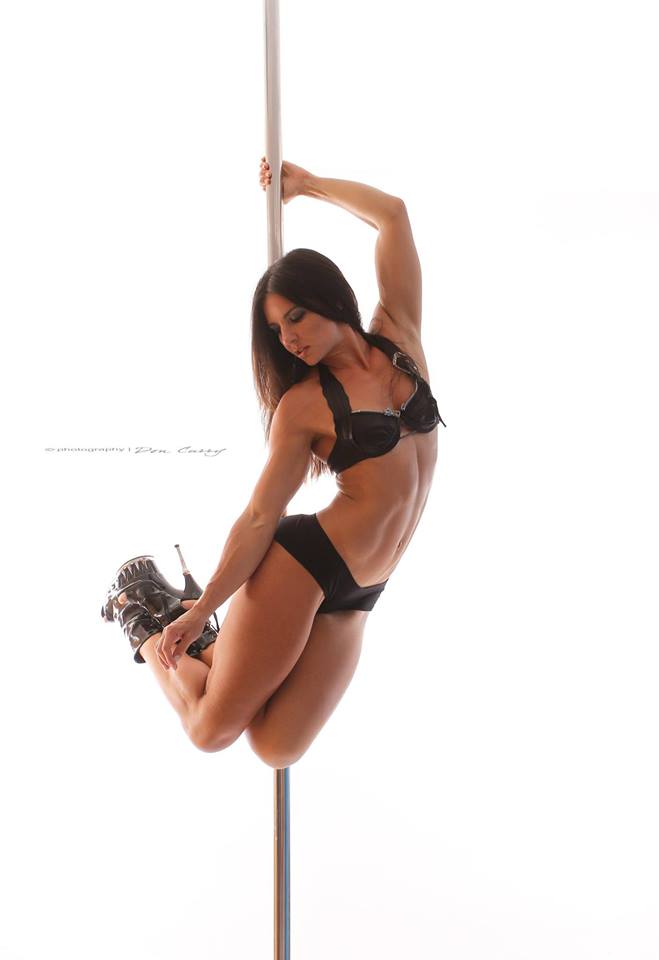 RUP: Were there any pole moves or particular areas of pole you struggled with, and how did you overcome this?
MS: It's crazy now because it's kind of one of my signature moves, but I used to be terrified of the twisted grip handspring/Ayesha/static V/whatever you call it. These days it's almost like a resting pose for me, but I used to get really sweaty hands and always thought that it would never be possible for that reason. But as I got stronger in my grip strength, I became less nervous about it, and stopped sweating so much.
RUP: Do you ever feel demotivated on the pole, and what do you do to overcome this?
MS: Some days I feel like superwoman, and other days the mere thought of going upside down exhausts me! Then I have a Red Bull haha. When I feel I have no pole mojo, I usually just try to accept that I'm having a bad day, and I'll do some handstands or stretch or something instead. The pole mojo always comes back.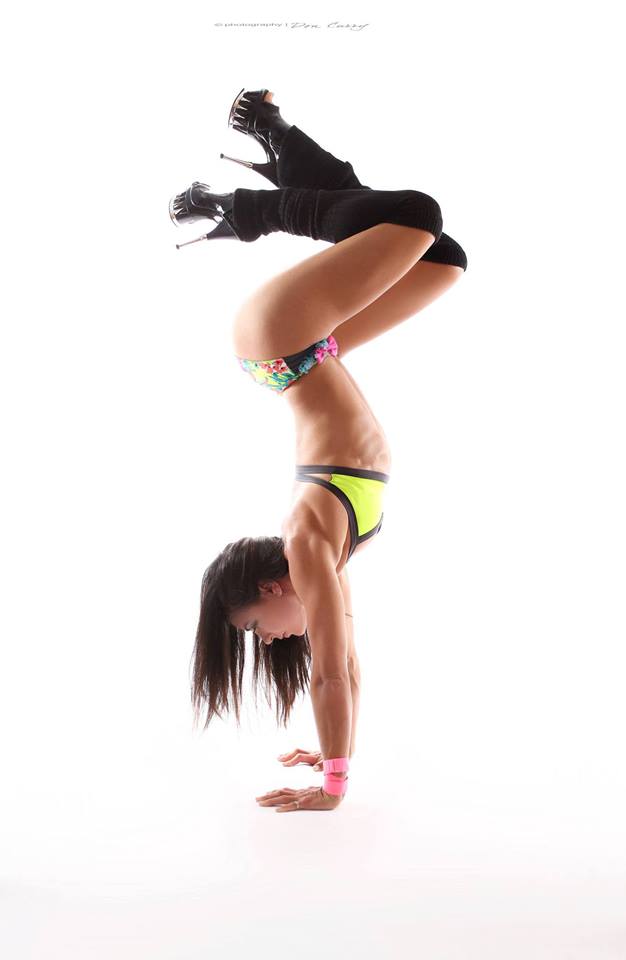 RUP: What do you enjoy most about pole dancing/instructing?
MS: The thing I enjoy most about pole dancing is the feeling of freedom and strength it gives me. It's like nothing else. I love the rush of a new break-through or achievement, and I love performing.
As for instructing, the biggest joy for me is watching students experience all of the above for themselves, and see them develop a new appreciation for their bodies and all that they are capable of. I've seen pole cure so many women of the body issues and insecurities that have plagued them all their lives, and that is such a wonderful thing to see.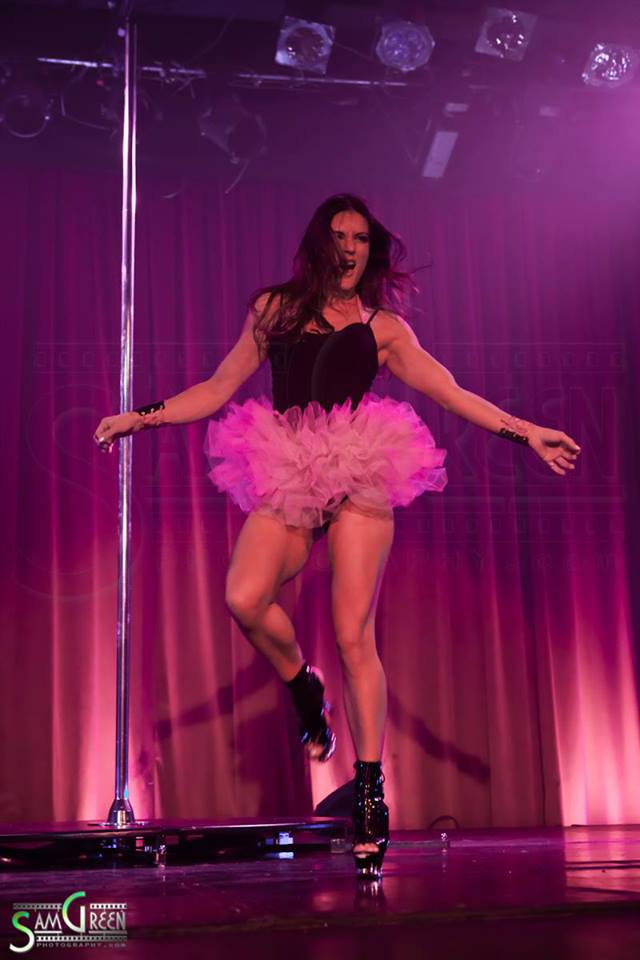 RUP: What would you say has been your career highlight so far?
MS: So many wonderful things have happened to me in my career so far, such as winning titles or placing in comps and travelling the world touring, but I think I would have to say that my biggest career highlight would be the moment my sister Maddie and I agreed that we would open the Pole Dance Academy together. It was the best decision ever.
RUP: You yourself have become a pole icon, but who would you say is your own pole icon and inspiration?
MS: Ahhh so many! For her versatility and all-round awesomeness, Jenyne. Marion and Anastasia, for the fact that they have taken their natural talents and worked unbelievably hard to be the very best that they can be. Felix, because she is still the most spine-tinglingly beautiful performer. Natasha Wang, because she is so ethereal and otherworldly on the pole. My sister Maddie, because she is ridiculously amazing and so hard working (the perfect training buddy!). Alethea Austin – watching her made me realize how much art goes in to looking effortlessly smooth and sexy. Marlo is beautiful. All the Aussie pole stars! There are so many more, but it's getting close to midnight here…
RUP: If time and distance were no object, what would be your perfect day of pole training/performing?
MS: I would train all day with all of the above ladies, at my studio, Pole Dance Academy (because I love the brass 38 mm poles)! Then we would all relax at Bondi Beach with my dog and drink margaritas in the sunshine. While getting massages. From shirtless male models. Bliss haha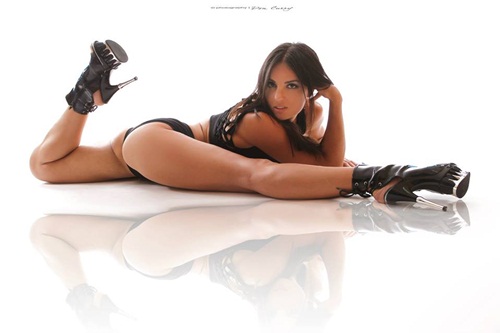 COPYRIGHT BEXIITA, REVVED UP POLE