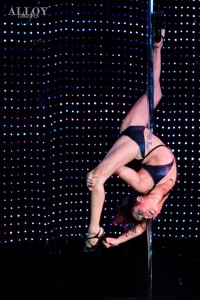 NADIA SHARIF
We spoke to LA based Nadia Sharif about doubles pole moves, pole icons and dancing in THAT pole dancing video.  Dancing since 2007, competing since 2008, teaching since 2009, and performing doubles since 2010, Nadia is National Aerial Pole Art Champ 2012, California Pole Dance Champ 2012 and USPDF Pro, as well as an official X-Pole girl and Bad Kitty Ambassador.
REVVED UP POLE: How did you get started in pole dancing, and what made you want to start competing and instructing?
NADIA SHARIF: I fell in love with pole dancing from watching Felix Cane on YouTube. I saw her and knew I had to try it! I actually auditioned for my first competition in 2008 at Xpolesitions. I didn't think I was good enough to compete but wanted to audition only to see what a real pole studio looked like, since I had : only been pole dancing in my room learning from YouTube. The competition actually accepted me as top 10, after only having pole danced for 6 months and later asked me to start teaching there. So I sorta fell into it.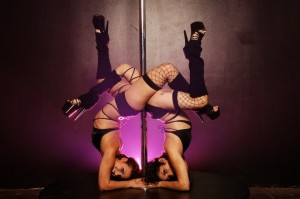 RUP: You are known for your doubles pole work with your pole partner Mina. How does doubles pole training differ from the usual pole training, and would you say doubles work is a whole different discipline?
NS: Doubles is completely different! The most difficult part is decision making on tricks, choreo and visions. It's like being married, everything is "we". Doubles is still fairly new, so everything is experimental, which is the best and worst part of doubles. Mina is an amazing partner and I couldn't imagine myself working with anyone else.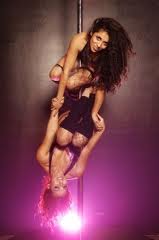 RUP: How do you choose the music for your competitive pieces?
NS: Choosing music is the most difficult part! I just listen to a million songs and imagine myself moving to the music… when I get inspired by a piece of music that's when I know I found my song.
RUP: You feature in the "infinite pole dance" video for Diplo's Set It Off (one of our fave videos of all time – watch it here).What can you tell us about filming that? Is it true the pole wouldn't spin so somebody had to lay on the floor and spin it by hand??
NS: It is true, we had a pole spinner at the bottom! The pole did spin, but it couldn't keep a spin very long, and since we had someone at the bottom it wasn't easy for us to get off and on, especially with heels on! We had to stay aerial for the shoot since they needed empty pole at the top and bottom, which was difficult. We couldn't go too high or too low. We filmed it very quickly, no more than 20 minutes of filming per girl. We never saw anyone else shoot, just one girl at a time.
RUP: Did you know how amazing the video would look post production?
NS: They told us they were going to make an "infinite" pole, but I don't think anyone of us knew exactly what that would end up looking like.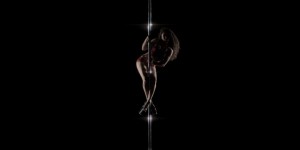 RUP: Who is your ultimate pole idol? And how does it feel to be the rising star of the industry and achieving pole idol status yourself?
NS: My number one idol is Felix Cane. She is the reason I began pole dancing and installed a pole from Ikea in my room – well it actually wasn't a "pole" it was a piece of a closet rod! Haha! My pole life has been unbelievable! I remember watching so many amazing people on YouTube, like Karol Helms and Pantera, and now I am all over YouTube. When people say they love watching me on YouTube I get such a strange realization go through my head because I remember how I was, always on YouTube watching girls and thinking how amazing they are. It is beyond a dream come true! I would have never thought pole dancing would change my life the way it has.
RUP: What are your three favourite pole moves and why?
NS: My favourite moves are ALWAYS changing but right now I'm really into flares and twists. So with that said, my favourite moves are the swizzle stick, Chinese Phoenix and Chinese flares into pinup… These are my favourite moves that I came up with but my favourite moves that are great on others are Felix's ballerina, Felix's spatchcock and Jenyne's straddle to tumble combo.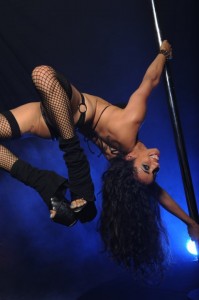 RUP: Were there any particular moves you struggled with?
NS: I still struggle with moves! I never felt good in a twisted grip, which is a VERY popular pole move. But because I struggled with it, I worked heavily on my Chinese/cup grip and developed two moves with the much lesser used Chinese grip. I am proud to say I made up the "Chinese pop" which is the elbow grip Ayesha to Chinese/cup and the Chinese Phoenix.
RUP: A pole dancer once told me she rubs champagne on her legs for better grip on the pole. Do you have any secret pole dancing tips or tricks to share with us?
NS: I use shaving cream on my body for brass poles. For chrome, a little iTac behind the knee pit and dry hands for my palms.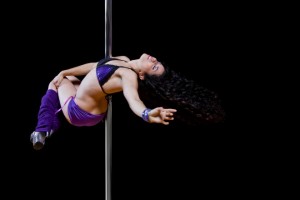 Copyright BEXIITA REVVED UP POLE