BEXIITA ACKLAND 
Studio owner, head instructor, founder and owner of Revved Up Pole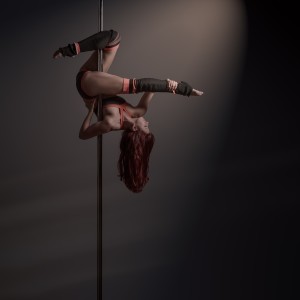 Bexiita has been teaching pole dance fitness for 5 and a half years, and has a background in dance and gymnastics. Bex was placed 2nd in the professional category of the Kent Pole Championships 2014, and was again a finalist in 2015 in the professional category. She is fully trained and qualified, with a level 2 ETM and X Pole XPert qualification, the only fully recognised Pole qualification in the world. Bex is also part of the PDC Syllabus Steering Committee. To find out more about the PDC go to www.poledancecommunity.com 
Bex has trained with Jenyne Butterfly, Felix Cane, Zoraya Judd, Cleo the Hurricane, Jess Leanne Norris, Michelle Shimmy, Bendy Kate, Sarah Scott, Natasha Wang, Lisette Krol, Maddie Sparkle, Pantera Blacksmith, Marlo Fisken, Michelle Stanek, Suzie Q and Toby J, Kristy Sellars, Josiah BadAzz Grant, Phoenix Kazree, Deb Roach, Anne Marie Davies, Charlotte Robertson, Karen Chaundy, Lorna Thomas, Charlee Shae Wagner, Amy Guion, Leigh-Ann Riley, and Jamilla Deville. Bex is also a contributor and writer for United Pole Artists, a web-based news source for pole dancers across the globe, and runs Revved Up Designs, a pole dance clothing line.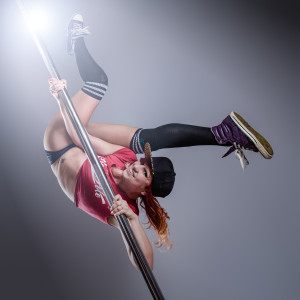 What was your backgroud before you started pole?
I was a gymnast from the age of eight until I was about 14. There is so much I learned as a gymnast that I use on the pole, but in particular it helped me with my flexibility. From the age of 18 I worked as a dancer in the West End for about 5 years whilst holding down a regular 9-5 job as a newspaper reporter. I moved into working in PR before settling down and having a family. I never dreamed in a million years I would ever work as a fitness instructor!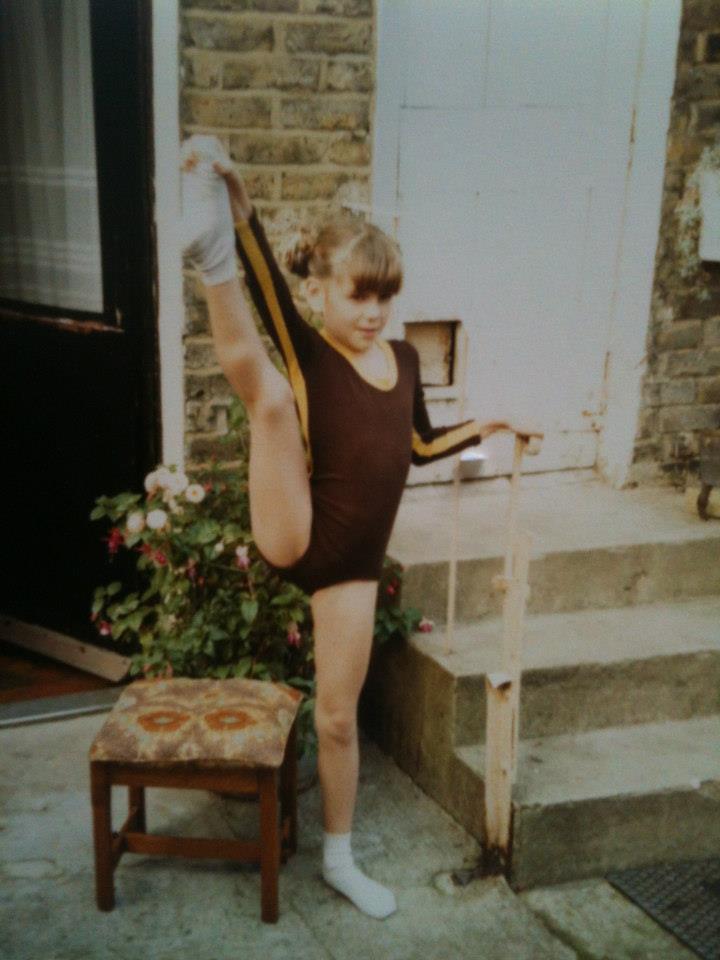 What made you want to start pole fitness classes?
I remember seeing a report on TV about pole dancing when I was about 19 and thinking – this looks amazing! This was back in the early 90s and pole fitness classes just did not exist then. I spent the next 15 years thinking it'd be an amazing thing to try but it'll never happen, until 1 day a friend said: " you'll never guess where I'm going tonight…"
What do you remember about your first lesson?
I remember that I wasn't very good! I remember being nervous but really excited, and I remember that I absolutely loved it – it was so much fun and totally different from anything I'd ever done before! I couldn't wait until the next week to do it again! After three months I offered to assist in classes for free so I could improve my technique and get more practice. I found that not only did I love pole, but I loved instructing too. I took the plunge and did the training to become a qualified instructor, and I taught my first ever pole class less than a year after I attended my own first class.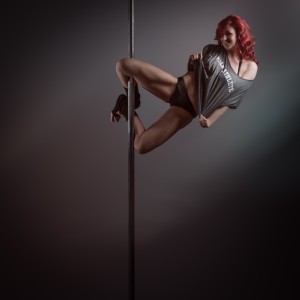 What is it you like best about pole? 
I love EVERYTHING about pole! I love that it is something different. I love that it is ever changing and evolving and you are always improving so it never gets boring. I love how impressive it looks, even when it doesn't feel it. I love how it challenges what you think your body can do and surprises you with what you can. I love most of all the people I meet and teach, and I am so thankful for the amazing things that pole has brought into my life.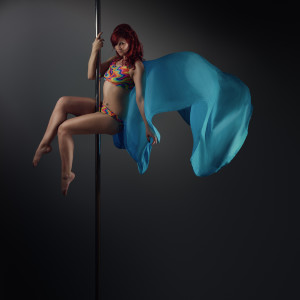 What do you like best about being a pole fitness instructor?
I love how it brings out the confidence in women who might have been nervous about coming along to a class, and seeing students flourish and grow. I love seeing the support and encouragement the students give to each other and friendships developing. I absolutely love seeing students achieve things they never thought they could, and feeling like a proud pole mama! To be honest there is nothing I don't like about teaching
What move(s) did you struggle with, and how did you overcome this? 
I really struggled with the superman. I just couldn't crack it and I even used to dream about it! Now it's one of my favourite moves! I also really struggled to conquer the handspring, but three times World Champion Felix Cane told me it took her 18 months to learn to handspring, so that's fine by me 😉 Now, like the superman, I love handsprings and I love teaching them.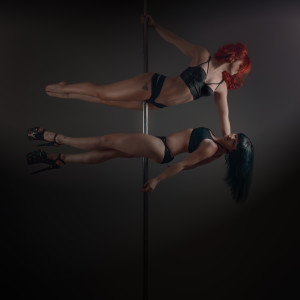 LAUREN CAGE
Instructor, Revved Up Pole Ashford 
Lauren is an XPert certified instructor, training with the world renowned XPole Xpert training programme. Lauren has an extensive background in dance, and brings her talent for flow and choreography to her classes at Revved Up.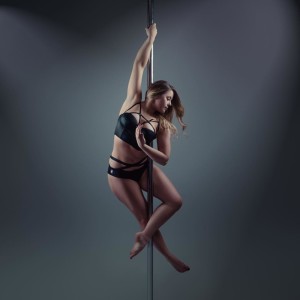 What was your background before you started pole?
I started doing ballet at 4 years old. I loved it and it gave me a bit of confidence as a very shy child. I went on to do small competitions and even performed in professional shows and pantos, which is something I thought I'd never be able to do. In secondary school I studied contemporary dance at GCSE and A level and was very lucky to represent the school on lots of occasions. I was also winner of the dance cup and became the dance ambassador. I also taught children's ballet for 5 years.
What made you want to start pole fitness classes?
After leaving school I stopped dancing, but I wanted to get back to it. A friend started going to pole fitness classes, and instantly I knew I wanted to try it. I didn't think I'd be strong enough, or fit enough, but I gave myself a push and went for it. I've never looked back since.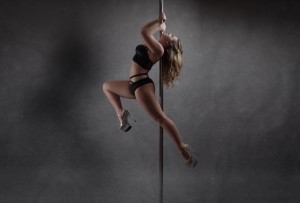 What do you remember about your first lesson?
I remember being a bit nervous, as I wanted to do well, but soon into the lesson my nerves were gone as I was made to feel so comfortable. I was amazed with what I could do, and excited to keep trying, and the other students were really supportive. I couldn't believe how much I achieved after just 1 lesson, and I knew I had to go back.
What do you like best about pole?
I love everything about pole! I love the self confidence it gives you, I love that it always challenges you, I love that it always looks amazing and that there is always a way to make it different.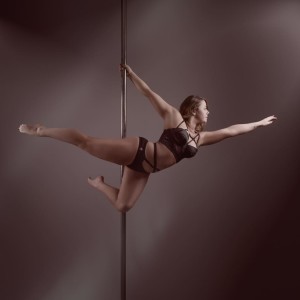 What move(s) did you struggle with, and how did you overcome this?
I really struggled with extended butterfly. I didn't realise how much hard work I was making it for myself! A lot of practice later, and now I feel strong in the move and can hold it for ages. I also struggled with Superman as I found it hard to get into (and painful!) but once I found my own way (after trying millions of times!) I was happy in the move and it wasn't painful, hallelujah!
What made you want to become a pole fitness instructor, and what do you like best about it?
People kept asking me, why don't you start teaching again? And I thought – yes this is what I want to do! becoming X Pole Xpert certified was the best decision ever! I love watching new students coming and trying pole for the first time. When they leave the class they are so excited and surprised with what they have achieved. Students go away with a massive smile, feeling so proud of themselves, and that is the best part for me.  
What advice would you give?
Go for it! You are capable of anything you set your mind to. Believe in yourself and you'll fall in love with everything POLE! <3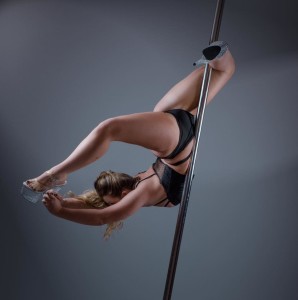 LOUISE NICHOLSON
Trainee instructor
Louise is an XPert certified instructor, training with the world renowned XPole Xpert training programme. Louise is looking forward to bringing her talent and enthusiasm for pole to Revved Up and to becoming a valued part of our instructor team.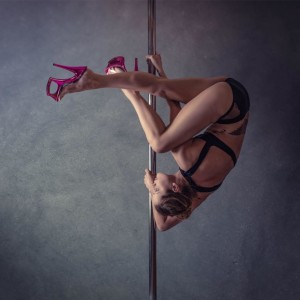 What was your background before you started pole?
As I child I was always into dance. At a young age I started ballet but then moved on to figure skating which I loved. I left school with a A* in GCSE dance but didn't continue dancing after I left due to other commitments. I worked in a bank for a few years then had a 9 year career break to have my children.
What made you want to start pole, and what can you remember about your first lesson?
I was looking for a hobby and a way to meet new people. I wasn't at the time working and my husband worked away a lot, I felt very disconnected and lonely and was looking for something that would get me in shape and give me something to think about. I was incredibly nervous about starting and very self conscious. To start I had a private lesson with a friend as I did not feel confident enough to be in a class environment. As soon as we finished the warm up and tried a few spins I knew that this was my new start, I instantly forgot all my nerves and loved every second.
How has pole changed your life personally?
It has completely changed me as a person. I am confident, happy and have a passion for something amazing. The people I have met are incredible and it's the close family environment I was looking for. I have since gained the confidence to go back to work and it has changed my life for the better in every way.
What moves are your favourites and are there any you don't like/struggle with?
I'm a massive fan of core strength moves. My favourite is a Iron X.  I am not a fan of layback moves I feel most of my strength is in my arms and hands. The Phoenix is my massive nemesis move at the moment but I love having something to work towards which is why pole is so addictive – there is always something to work on and it never gets boring.
What goals do yo have in mind and what are you looking forward to in your pole journey and becoming an instructor?
As an instructor I look forward to welcoming people into my class that may feel the way I felt attending my first lesson and watching them blossom and discover a person inside they never believed existed and smashing moves they thought impossible.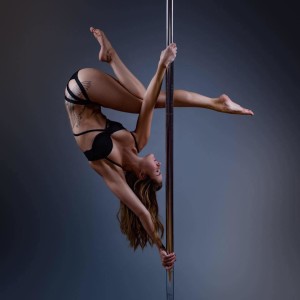 COPYRIGHT BEXIITA ACKLAND, REVVED UP POLE 2013
Revved Up Pole Ashford, Studio 5,  Richmond Meech Drive, Little Burton, Ashford, TN24 ,9RX
Call 07748 908 851 Or text "POLE" to 07748 908 851