Where is the studio?
We are based at Studio 5, Richmond Meech Drive, Little Burton, Ashford, TN24 9RX. We are on the Little Burton estate in Ashford, two miles from the M20 junction 10, with ample free parking.
From M20 junction 10, head towards the hospital. Go past the hospital and Julie Rose stadium on your right. After you go over a bridge in the road, turn left down George Williams Way. Turn right when you come to a roundabout, and follow the road down to another roundabout. On your left is a parade of shops. We are at the end of the row of shops on the far left- it says Futuredance/Studio 5 on the front. To park, turn left at the roundabout and follow the road round to park next to the One Stop Shop, then walk round to the studio.
What should I wear? 
For your lesson we suggest that you wear shorts, as your legs will need skin contact with the pole to perform certain moves. You may prefer to wear leggings over your shorts to begin with. A t-shirt or vest top is fine for beginner classes, though you may prefer to wear a shorter vest as you progress, as this can assist with the more advanced moves. You can wear trainers if you choose, or work in bare feet.  It's a good idea to bring a towel, as your hands can get sweaty, and it is useful to wipe the pole.
We ask that you avoid moisturiser on the day of your lesson, especially on your hands and legs, as this can make the pole very slippy and affect your grip.
As with all exercise programmes, please be prepared for a certain amount of aches and pains, and bear in mind that pole bruises are normal to start with!  
I have never tried anything like pole dance fitness before. Do I need to have experience in dance or fitness? 
Not at all! Our classes are made up of women of all ages, shapes, sizes and levels of fitness, in a fun, friendly, supportive atmosphere. We understand that pole dancing may be daunting at first but we tailor our classes to YOU. The safety, comfort and satisfaction of our students is paramount.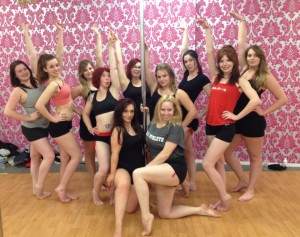 How much are your classes?  
All classes are £60 for a course of six weeks, or £13 per lesson on a drop-in basis. Pole Passports are also available for £80 for four weeks, and give you unlimited access to all pole dance classes. One to one or group private lessons start from £35.
How long are the classes? 
Each class is an hour, and includes a short aerobic warm up, preparatory stretches and a cool down at the end of class. Each class will typically include a cardio spin section and a combination of climbing, inverted moves and dance elements, depending on the level of the class.   
Am I too old/large/unfit/inexperienced?
Not at all! We cannot emphasise enough that there are no reasons you shouldn't try pole dance fitness, and no reason you won't enjoy or progress in this wonderful sport! We have women in their 50s and 60s as well as students of all shapes, sizes and levels of fitness. We provide a safe, supportive and friendly environment for EVERYONE. To hear from our students (including their concerns and worries) check out our testimonials page.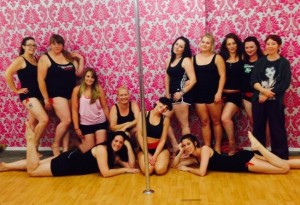 What about crash mats? I'm very nervous.
We have crash mats at the studio for more advanced moves, and additionally we have a padded floor, so there is no need to be nervous

Your safety in class is paramount.
I am a complete beginner, can I join an existing class?
We think it is very important to reinforce techniques and moves – so in our classes we do not achieve something on the pole and move on. Instead we regularly revisit important techniques and work on improving and perfecting them. Additionally, we often have assistants in each class who can give you extra help with new moves. This means  you do not have to wait for a course to start, you can join an existing beginners class that suits you.
When can I come to class? 
We run classes and teach private lessons all through the week. Contact us on 07748 908 851 or check out our timetable, or go here to book online  
COPYRIGHT BEXIITA ACKLAND, REVVED UP POLE, OCTOBER 2013 
Call 07748 908 851, or text "POLE" to 07748 908 851