DON CURRY
Don Curry is one of our all-time favourite photographers, one of the best in the entire world and creator of some of the most well-known images in the pole community, with a unique style that embraces the sexy side of pole and celebrates the female form. We spoke to Don about how he got started, making women feel at ease and tips for a great pole photo shoot.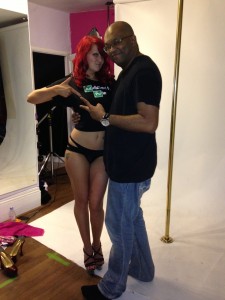 REVVED UP POLE: So starting with the basics – how did you get into photography in general, and more specifically into photographing world class pole dancers?
DON CURRY: It was a Monday about 6 years ago when I was in total geek mode: I was excited about testing out a new low-light lens that I had just received in the mail. I don't go out much and I'm not much of a party-goer, but I knew on this one particular Monday night at a club in Tallahassee, Florida, there would be an interesting crowd there with interesting outfits, hair and make-up. I've heard this type of underground community referred to as "Goth" or "Gothic". I wanted to test my new lens out under these low-light conditions and so, I went. One young lady walked into my field of vision as I was taking snapshots wearing a straight jacket, nurse's surgical mask and long latex boots. I approached her, introduced myself and asked her if I could take some pictures of her. She agreed and we managed to take some extremely striking (but normal, non-pole) shots the rest of the evening. Unbeknownst to me, she was a pole dance student. This occurred to me immediately I started posting the pictures on Facebook. I was contacted by the pole studio owner who tried for 6 months to persuade me to come by her studio to meet her and talk about pole fitness. I had not heard of pole fitness at the time and my initial reaction was: "a bunch of strippers", and I wasn't interested. But this particular studio owner was persistent and finally convinced me that I should visit her in her studio and see what "pole fitness" was all about. I eventually went and my ignorance swiftly turned into high-interest after seeing the athleticism, strength, poise, and flexibility in these women (and men). Moreover, I was highly impressed with the artistic side and this is what struck an extremely loud chord in my heart and mind. I was hooked and eager to see how I could apply my artistic vision to pole artistry.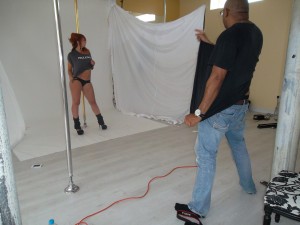 RUP: As a pole instructor, I always think we have a responsibility to make people feel comfortable, safe and at ease pretty fast when they start attending lessons – as a pole dance photographer you have even less time than we do to put someone at ease before you start working together! How do you go about creating that environment of trust to ensure a good photo shoot with someone you have just met? Especially as you often take some pretty sexy pictures…
DC: I'm a firm believer that one's demeanour and personality should make others feel comfortable. How I am at photoshoots is how I am all the time: easy-going, fun, low-key, focused, and relaxed. This lends itself to making people feel comfortable and ultimately, building good rapport in relatively short amount of time. Additionally, my knowledge of pole tricks benefits me in directing (when need be) girls/guys on the pole or off: I can quickly give directions, know what angles to shoot and quickly get the shot I'm wanting. People often show up at photoshoots nervous and have no idea what to do in front of the camera so, it's important to give them direction.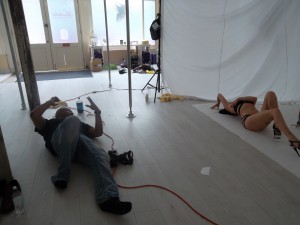 RUP: Having shot many pole dancers at the top of their game, do you have a personal favourite? 
DC: I don't have a particular favourite photoshoot, pole dancer or image because I have profound respect for all of them. I do, however, use my Facebook profile pic as a place to display the images that I feel best represent my work and that I'm extremely proud of.
RUP: Is there anyone in particular you haven't worked with yet but would like to? (either in the pole dancing world, or in general?)
DC: I would love to work with Doris Arnold from France. She's just too damn sexy. I've also had a crush on Adrienne Strauss for the longest time. Hopefully, I'll get a chance to work with her when I'm at BeSpun later on in the year. She's just too damn sexy. I'm also looking forward to travelling to countries I haven't visited yet like: Brazil, Thailand, Argentina and Greece to name a few. Outside of pole, I would love to work with an American ballet dancer named Misty Copeland.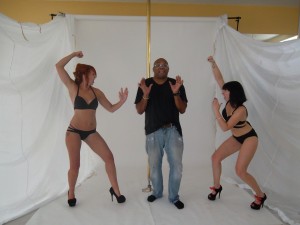 RUP: Have you ever been coerced into having a go on the pole yourself?
DC: There's one picture floating around of me on the pole in an Australian studio…
RUP: What advice do you have for anyone doing a pole photo shoot, to ensure they get the best images they can?
DC: 1. Have a familiarity of the pole tricks to ensure the right angles 2. Be an artist first and foremost: throw everything you know out of the window; think outside the box.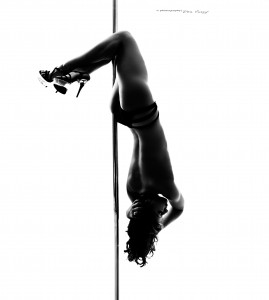 COPYRIGHT BEXIITA, REVVED UP POLE